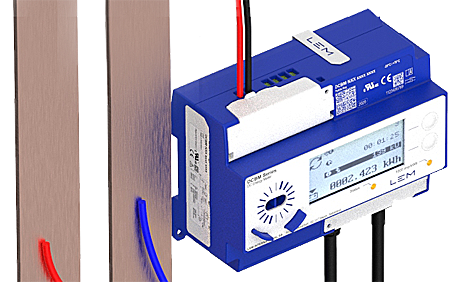 Sveitsiläinen LEM kertoo saaneensa Pohjois-Amerikan markkinoille sertifioinnin sähköajoneuvojen nopeille latureille suunnitellulle DC-mittarille. Plug and play -tyyppinen ratkaisu mahdollistaa sähköajoneuvojen latauksen tarkan laskutuksen ja lyhentää uusien, nopeampien laturien markkinoilletuloaikaa.
Julkistettu kaksisuuntainen DCBM-mittari on suuri askel eteenpäin sähköautojen nopeiden laturien käyttöönoton edistämiseen Pohjois-Amerikassa. Sertifioinnin myötä valmistajat voivat nopeuttaa CTEP/NTEP-vaatimusten (Certified Test and Evaluation Professional / National Type Evaluation Program) mukaista DC-mittausvaatimusten sertifiointia.
Uusi mittari, joka pystyy valvomaan virtaa, jännitettä, lämpötilaa ja energiaa, on suunniteltu tietoturvaa, sähköistä liikkuvuutta, digitointia ja joustavuutta ajatellen, ja se on UL-hyväksytty komponentti Yhdysvalloissa ja Kanadassa. DCBM 400/600 täyttää UL 61010 - ja UL 810 -standardit ja se on sertifioitu FTRZ-kategoriassa EV-sovelluksia varten. Tämän sertifikaatin saavuttamiseksi mittarin oli läpäistävä vahvistetut eristystestit, kaikkien sen komponenttien ja osakokoonpanojen lämpötilatestaukset, sähköiskunsuojatestit, merkintöjen kestävyystestit, laitteiden lämpötilarajatestit ja kuumuuden/palon kestävyystestit.
Kaliforniassa, jossa on pitkän aikavälin liikennestrategia vähentää CO2- ja kasvihuonekaasupäästöjä, on tunnustettu, että laajalle levinnyt ja luotettava latauksen infrastruktuuri on välttämätön, jotta tavoite lisätä vähäpäästöisten hybridisähkö- ja nollapäästöisten sähköautojen voitaisiin saavuttaa.
Tämän saavuttamiseksi sähköajoneuvojen käyttäjät tarvitsevat "huoltoaseman" kaltaisen kokemuksen, mikä tarkoittaa sitä, että ajoneuvojen latausajat on lyhennettävä muutamaan minuuttiin. Tasavirtapikalataus (DCFC, Direct Current Fast Charging) mahdollistaa tämän muuntamalla AC:n tasavirraksi sähköauton ulkopuolella, ohittamalla sähköauton sisäisen laturin (OBC, On-Board Charger) ja toimittamalla jopa 350 kW tehoa suoraan ajoneuvon akulle.
Vaikka tämä menetelmä lisää lataustehoa, muunnosvaihe tuottaa tehohäviöitä, joita sähköauton omistaja ei kustanna. Siksi tarkan ja läpinäkyvän laskutuksen kannalta on ratkaisevan tärkeää tietää, kuinka paljon energiaa ajoneuvoon on toimitettu sen jälkeen, kun vaihtovirta on muunnettu tasavirtaan.
25 - 400 kW:n DCFC-asemille erinomaisesti sopiva DCBM 400/600 mahdollistaa kustannusten tarkan hallinnan ja integroi allekirjoitetut laskutustiedot OCMF-protokollan (Open Charge Metering Format) mukaisesti. Uusi mittari ei toimita vain aitoa laskutusta, vaan tarjoaa myös turvallista viestintää ja helppoa liitettävyyttä pilvipalveluihin.