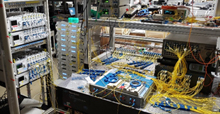 Runkoverkkojen datakapasiteettia pitää nostaa, jotta sillä voidaan palvella kaikkia tulevia pilvi-, 5G- ja IoT-tarpeita. Japanilainen NICT-tutkimuslaboratorio (National Institute of Information and Communications Technology) on demonnut kytkintä, jolla voidaan välittää yhden petabitin levyinen datakapasiteetti kuidussa.
Petabitti sekunnissa on noin sata kertaa nykyisiä runkoverkkoratkaisuja nopeampi yhteys. NICT:n mukaan tällä kapasiteetilla voidaan optisessa kuidussa lähettää 8K-videota samanaikaisesti 10 miljoonalle ihmiselle.
NICT on jo aiemmin demonnut petabitin kuituyhteyttä yhdellä optisella linkillä syyskuussa 2018. Petabittitason datansiirto edellyttää kuitenkin kytkinratkaisuja, jotka pystyvät luotettavasti välittämään näin massiivisia määrä dataa. Tähän saakka ei ole kyetty rakentamaan kytkimiä, jotka voisivat käytännöllisesti ja kustannustehokkaasti välittää näitä datamääriä.
NICT:n demossa testattiin eri verkkokapasiteettien ja eri kuitutyyppien käyttöä eri skenaarioissa. Terabitin runkoyhteydessä käytettiin 22 ytimen optista kuitua. Demossa kokeiltiin myös alhaisemman nopeuden yhteyksien hallintaa: niissä dataa siirtyi 10-346 terabitin nopeudella.
NICT esitteli demoaan syyskuun lopulla optisen tiedonsiirron ECOC 2019 konferenssissa Dublinissa.